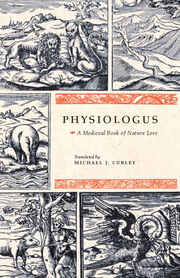 COMPILED BY: AN UNKNOWN AUTHOR
Physiologus was a Greek didactic Christian text from Alexandria written or compiled around the 2nd century AD. The text had entries on rocks, animals and plants. Often moral or symbolic qualities are given to the animals which we still know today like the Phoenix rising from the ashes or the pelican feeding blood to its young. 
The book, although supposed to be fact, includes many fantastical creatures. It even includes an odd plant and a prophet. It includes the Phoenix, the Siren, the Ass-Centaur or Onocentaur, the Seahorse, the Aspidochelone, the Griffin, the Aspide and the Unicorn.